I enjoy the beginning of the Fall season, the start of school … and football! In 2020, the COVID-19 pandemic has muted many people's love and enthusiasm for the traditions and activities that mark their days, however. The reality of the pandemic's effects both physically and mentally should not be minimized, yet should be used as a means to consider how we should live our lives in this new normal.
How do we want to live our one-and-only life as we strive to maintain our family, job, and community commitments?
Looking back six months ago, March and April were a struggle, not that I feared getting the virus, but rather wondering how to maintain family and other relationships under the shelter-in-place orders our governor imposed. We worked through the issues, but daily life just wasn't the same. Soon, though, the warmth of Spring and Summer brought some solace as we began to see life renewed in our plants, chickens, and our new kitten!
That thought has stayed with me – renewal is a topic that we frequently return to in our lives.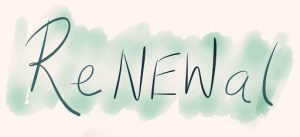 Retreats, the New Year, and the beginning of the school year are some of the times of renewal we experience throughout each year. These times are important as we seek to level-set or return to the core values we want for our lives.
The prophet, Jeremiah, has established this process of renewal quite clearly in the Bible. "The steadfast love of the LORD never ceases; his mercies never come to an end; they are new every morning; great is your faithfulness." Lamentations 3:22-23 (ESV)
Renewal, mercy, faithfulness – these words, these truths are missing in the current culture. The angst associated with the pandemic, politics, and [fill in the blank] are all that we read about in the news and other sources.  Our focus tends to be on people and things that make us angry and/or do not support our position.
Let's stop this hurtful trend. Instead, let's take time to focus on renewal – renewal of our thoughts, our activities, and a return to our passions, remembering that God's mercies are [re]newed every morning.